During these 2 weeks we will host multiple events all on the topic of sustainable design! Sustainability is becoming an ever more important topic. Students are closely related to this topic and play an important role in the future of sustainability. They need to be aware that sustainability will be a crucial factor and they need to be informed about this topic. Sustainability is also important in design and is taken into consideration more frequently nowadays. A lot of companies are already working on sustainability and a cooperation between students and companies can help to improve the future of sustainable design.
The Program
Here you can find the program for the weeks. We will give a short introduction on each activity!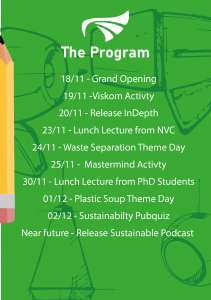 The Grand Opening
On this day we will open the event weeks via a live stream! During this live stream we will quickly talk about sustainable design and how this impacts IDE. Next to that the StudIO will be decorated and there will be a live stream from the StudIO with some nice tunes!
Viskom Activity
During this activity you will encounter sustainable design in a creative way. How do you create new designs from thrash? How can you implement sustainability in a daily life? For more info check the event on the sign up page!
Release InDepth
On Friday a new InDepth will be released! This InDepth will be partially in the topic of sustainability. They will be available for pickup in the StudIO.
Lunch lecture from NVC

NVC(Nederlands Verpakkings Centrum) will talk about the PUMA Manifest. PUMA is a worldwide effort to end the pollution created by the packaging industry. They will talk about the plans and future of this manifest and why the current industry would be a problem for the future. More info:
https://www.nvc.nl/press/item/puma-manifest-interpack2020-nu-samen-op-weg-naar-einde-verpakking-als-milieuprobleem-wereldwijd/
Participants get a coupon for a free subway sandwich!
Waste Separation Theme Day
During the separation day the new separation bin will be revealed on a live stream! There will be fun games to play in and around the StudIO, when you quickly walk by to grab a coffee/tea. Next to this, there will also be the possibility to play online games!
Mastermind Activity
During this lecture Bjorn the Koeijer, professor at the University of Twente. Björn will talk about packaging and several statements regarding sustainability will be given and discussed about. Does your opinion change during this lecture and do you agree with him or not? Find out on the 25th of November! Sign up on the website!
Plastic Soup Theme Day
On this day you will get to know about the plastic soup floating around in the ocean, which is a very important issue nowadays. The StudIO will be decorated according to this theme and you can grab a free cup of plastic soup provided by the Omnomcom(no plastic is used during the production of the edible plastic soup).
Lunch Lecture PHD Students
Two PHD students from the faculty of Sustainable Design Engineering on the TU Delft will talk about designing with living materials!  People who sign up will receive a coupon for a free subway sandwich. Sign up on the website!
Sustainable Pubquiz
During this festive ending we will organize a pubquiz! What do you know about sustainable design, sustainability in general and the event weeks itself? Test yourself during the Pubquiz! If you paid enough attention to the socials of S.G. Daedalus you should know most facts by now.
Release Sustainable Podcast
In the near future an Icarus Idea podcast with Daan Roosengaarde will be released!
We hope to see you there!