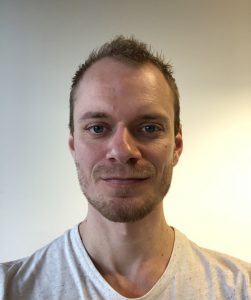 Mark is 30 years old and is currently working at Elli, which is a group at Volkswagen. Elli is assigned to ensure people buying an electric car form Volkswagen will be able to charge it conveniently everywhere in Europe. Whether it is with a charging station at home or at a charging station at a rest-stop on the highway. Mark currently works as Project Manager developing the charging station that can be installed at customers their home. He started his studies of Industrial Design at the University of Twente in 2008 and finished his studies in 2015. He did both his Bachelor and his Master at the UT. Currently, His work is focused around everything that has to do with charging electric cars.
During his student years Mark was never really an active member at Daedalus concerning for example partaking in committees. He was however a member of Daedalus and did go to the fun ID parties. He believes that Daedalus was quite an active association in 2008 compared to other study associations.
In his masters Mark followed the management of product development track, which was already part of the curriculum back then. He mainly focussed on this track and did not deviate a lot from the courses that were part of this master track. He did his master assignment at Siemens in Nurnberg, where he worked on the packaging of semi-finished electric-vehicle components. Because the supervision was not optimal, he eventually decided to stop with this assignment. After that he had a period in which he did not know what to do, but eventually he graduated in the spring of 2015. His assignment ended up being a free assignment without a company, but he did use a lot of his experiences from Siemens. He learned a lot from his time at Siemens as this was a preparation for a possible job at a company in the future.
In retrospect, he believes that Enschede has a nice and low key atmosphere, but that it was also too small for him. He also thinks it is a pity that there were/are less women at this university, as he believes it is better to have a mixed group of students. He would make the same choice of studying in Enschede, but looking back he would have liked to take more time to look at the possibilities of doing a minor or masters in another country. According to him the best aspect of Industrial Design Engineering is the interaction between all the different disciplines of Industrial Design, such as mechanics, electronics and software. You can also explore these disciplines within projects and that is how Mark got to know his interests.
After his studies Mark did not really know what he wanted to do, so he decided to apply for a job at USG Engineering. During his time at this company he mainly worked on prototypes for coffee and beverage machines, but he also started to work in the field of e-mobility. After he had worked here for 2.5 years, he decided to start a job at another company, which was mainly settled in China. After a few months it was already clear that he did not want to work here, so he moved on to another job. This is his current job at Volkswagen/Elli. He mainly wanted to work at Elli, because the scale of the investments and ambitions are very high.
After his master graduation assignment in Nürnberg, he wanted to go back to the Netherlands. He did have the ambition to go abroad again, but not right after his graduation. That is why he first started at USG Engineering. However, after that and a couple of years working at Vattenfall, he decided it was time to move abroad again. He wanted to go to a place, where he could stay for a longer period and where there were enough job opportunities. He wanted to go to Hamburg or Berlin in Germany. Eventually, he decided to go to Berlin. Mark believes that it is more difficult to work in another country, as it takes longer to arrange something, because of for example the language barrier and the difficulty of mixing with locals. However, because he already was quite acquainted with the language and cultural differences are not that big, Germany was easier than other countries. He does think that working abroad is eye opening, because you will discover that you have taken things for granted, which are different elsewhere, like .
Now that he is working at Elli, he mainly sees the aspect of seeing connections coming back from his studies at the University of Twente. He believes that especially Eric Lutters challenged him to question what he sees and hears. He learned to not just assume something is correct, but try to understand why it is correct and if it even is correct. After his studies, at companies, he mainly learned that things happen according to the policy or known practices of the company, which might not necessarily be logical. He also discovered that people are usually too modest. He thinks it is important for a person to know what their abilities and the people around him/her are. With this mindset you can find out if you can trust someone and you can foresee if problems will occur.
Want to know more about Mark and the job he is doing right now? If the Berlin trip will still take place, we will visit him!