Samra Sabljic is 24 years old and graduated in 2019. She studie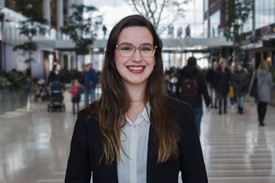 d Industrial Design Engineering for six years at the University of Twente. Currently she works for the Province of Utrecht, where she is doing a traineeship. As a trainee you have a regular job, enriched with a trainee-program. This way the focus is on learning and developing yourself more within the organization. For her, this is a great transition between the student and working life. Mainly because the trainees are seen as the innovators of the organization. She agreed to join for this interview as she did not know exactly what to do after her studies. She hopes by giving this interview she can provide some inspiration or give an example for current students.

Samra was really positive about her years as a student. The small scale of the study direction gave her a lot of flexibility during her student years. There are many possibilities for students, which enable you to gain a lot of experience in different fields. She was an active member of S.G. Daedalus and joined the Evaluation Committee and the Accom. As a chair of the Evacom she learned a lot about the educational system of the UT and about giving feedback in a positive way, she regularly wrote a piece for the InDepth. With the Accom she organized many fun activities like the 'night in the red light' party and the Valentine pub crawl!
During her master she joined the Study Tour to Japan and South Korea, Ukiro. Prior to the trip  she did a case with Gazelle, for which she designed a bike. This added something to her growing portfolio, which, she states, is really important for finding a fitting master thesis. After the bachelor she went on to follow the master Human Technology Relations. She really enjoyed courses like Graphic Language of Products, Product life cycle and Design History. She finished her bachelor by working on her thesis with an architectural firm in Rotterdam. This is where her interest in public spaces started to grow.
During her masters the interest for designing things in public spaces evolved even more. After focusing elective courses towards sustainability and/ or the public space, she also wanted to do a master thesis related to such topics. After meeting someone working for the Municipality of Amsterdam at the Bedrijvendagen fair, she sent her portfolio and CV to different departments of that huge organization. She got lucky and they got an assignment for her! She worked on the project of the Waterlooplein; a complicated project with a long history. It was her first experience within such a state organization. Her goal was to design something that would satisfy all parties. After a long process of almost a year she managed to design a compromise. This experience she got during her master thesis confirmed her interest in public spaces and was the foundation for the job she currently executes.
After a long-overdue summer break she started to look for a job. It really takes time and practice to get a hang of writing the perfect application letter and selling yourself in the best way. She found out there aren't that many applications regarding a link between architecture and industrial design. As soon as she found this specific traineeship application for the Province of Utrecht, she knew that it was a perfect fit. The application process was quite intense, which is something that you do not encounter while studying. From the 350 applicants only 15 were selected. A tip when looking for a job: prepare yourself for the different kinds of assessments you need to go through.
She really recommends doing a traineeship after your studies as it is a nice transition from student to working life. A traineeship most often takes between one and two years. One day a week she follows the traineeship program: courses and trainings to broaden her knowledge of the organization, while the rest of the week she has a regular job. Her area of work is the "Nieuwe Hollandse Waterlinie". This is the largest national monument of the Netherlands. The cultural heritage was once a defense line, used to keep the enemy away by flooding in case of war. It spreads through 5 provinces, but the largest part extends straight through the middle of the Province of Utrecht. She focuses on tourism in this area and also on sustainability. Samra really enjoys her current job. She is learning a lot on the job, while developing her personal skills in the trainee program as well. The most important skill she learned during her studies and which she still uses today is "design thinking". She considers this mindset to be really important and the key for innovation, especially in the public sector.
Lastly she wants to give everyone the advice to find something you really like during your studies. This is the time to do so, as you have the possibilities and time to explore almost everything you want. She really recommends getting extra experiences outside of your studies like a study tour, extracurricular courses, internships etc.